Archive for 'Small Gardens'

In the final week we see another brick element being constructed. Again out of the same brick paver a set of steps gives us access from the covered back porch directly into the garden. This provides both a functional and asthetic element to the garden. Speaking of access features you will also notice the installation of natural stepping stones that allow circulation from the front to back garden.

Here the brick paving for the patio is being completed. Sand is swept in between each brick to fill in the gaps. Also this week the sod has been laid and rolled to ensure a smooth lawn.

This week the garden takes shape by adding some of the hardscape elements. The beds are edged with a brick paver standing up right. In order to help tie this garden together this same brick is being used to construct the new patio.

The leveling is complete and the garden layout begins. The square in the center is the future location for a herringbone pattern brick patio. It already begins to feel like a new space.

Here we are building the retaining wall using 4″ block. Behind the wall we are installing corragated pipe in gravel to release the water pressure that easiliy builds behind it.

As the layout beomes clear some plant material is added to their proper location. The garden is coming to life and the anticipation grows!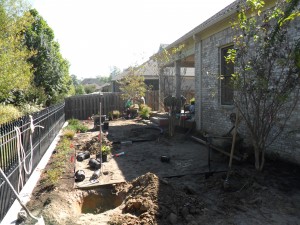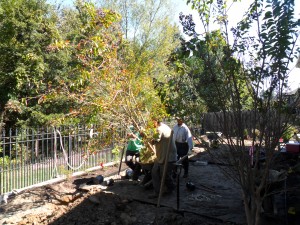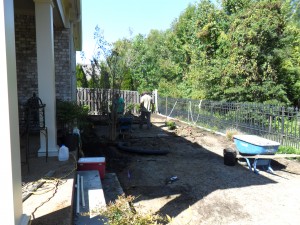 The retaining wall is complete and the backfill process begins. Soon the entire space will be level and ready to start constructing the new garden.

Today we poured a footer for the retaining wall that will be used to raise the entire area to the same level.